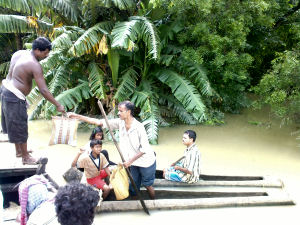 Reaching out
The area is prone to frequent floods, therfore, the Ashrama has to remain ever alert to this particular calamity of nature.
Almost every year, with the help of Belur Math, the Ashrama stands beside flood effected victims by distributing cooked food where possible and dry food where it is unable to do so.
In 2008, the river Darakeswar flowing by Ichapur village broke its embankment thrice in short intervals and flooded the entire area, waters inundating the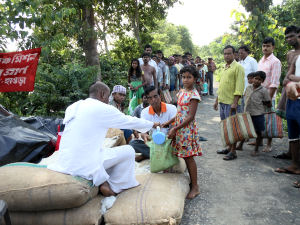 Flood relief on war footing
Ashrama campus leaving only the temple and a few adjoining buildings to rise above the flood waters.
About 400 villagers including their cattle and livestock were given shelter in the Ashrama and fed regularly till the waters receeded and they were able to get back to their homes.
Every year, thousands of blankets are distributed not only among the elderly of the adjoining villages but also of some far flung areas. Sarees and clothes are also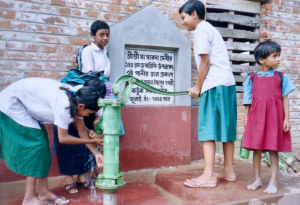 Tubewells installed for clean drinking water
distributed among the poor village folk during Durga Puja.
Some of the welfare programmes being carried on are :
- providing assistance in house building;
- distributing school uniforms to poor students;
- arranging for financial assistance to the poor and the needy;
- installation of cylinder tubewell for drinking water;
- giving assistance for procurement of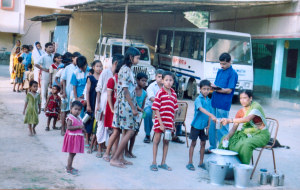 Milk distribution programme
medicines;
- organizing financial assitance for procurement of rickshaw, cycles, van-trolleys under the self-employment generation scheme;
- distributing free spectacles subsequent to opthalmological treatment;
- setting up of hygienic latrines;
- arranging special cycles for handicapped children.
Programme of regular distribution of milk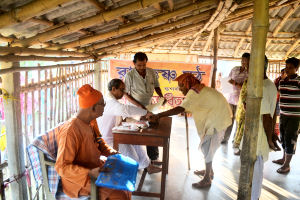 Cloth distribution
among children and pregnant mothers being carried on has been brought under the "Gadadhar Abhyudaya Prakalpa" undertaken by Belur Math commemorating 150th Anniversary of Swami Vivekananda.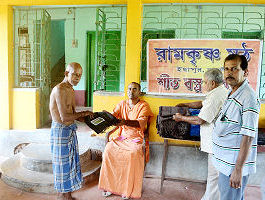 Blanket distribution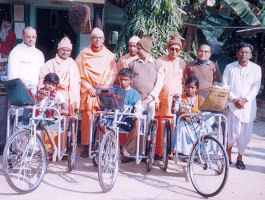 Special cycles for handicapped children