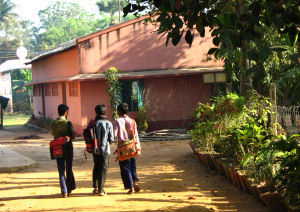 To school in the morning
The Ashrama has been laying stress on education for quite sometime and organizing focussed activities in this area of utmost importance, imparting free primary education targetted at children of scheduled castes and tribes residing in the area.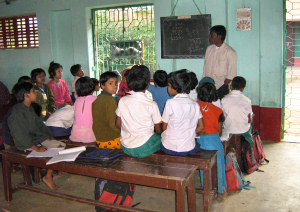 All attentive in class
Through 22 free coaching centres, poor students are taught under the able supervision of teachers. They are provided books, exercise copies and uniforms. Though the situation and infrastructure discourages the establishment of a school by the Ashrama, adequate help is extended to poor but meritoriuos students every year in the form of text books, books for higher studies, school fees, scholarships and financial aid. In a village dominated by the "Lodha" tribe a centre has been opened with a view to cater to the education of their children specifically.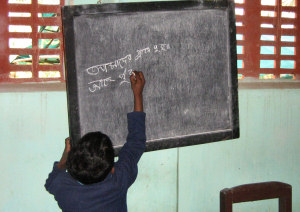 Class work lesson
The Ashrama has a students' home where at present 14 poor and orphan children are staying under the supervision of monastics and studying in a local school. It is to be noted that among them, 2 students have cleared the Joint Entrance examination of the State and are pursuing medical and engineering courses.