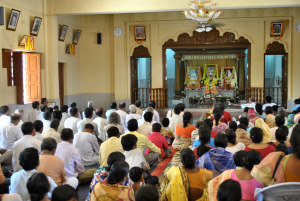 Gathering of devotees in the temple
Regular morning and evening prayers and Ramanam Sankirtana on every Ekadasi day are conducted in the shrine to stimulate the spiritual aspirations of the people. Birth tithis of Sri Ramakrishna Deva, Holy Mother Sarada Devi, Swami Vivekananda and Swami Ramakrishnananda are celebrated every year. Phalaharini Kali Puja and Annapurna Puja are celebrated with eager and active participation of not only the local village folk but also devotees from far.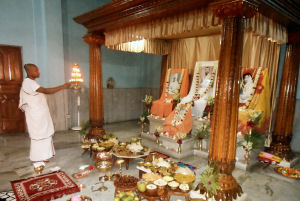 The Holy Trio
The tithipujas are marked by vedic chants adding to the tranquility from early mornings. Processions are held with photos of Sri Ramakrishna Deva, Holy Mother Sarada Devi and Swami Vivekananda where local villagers and guests go around the village with chants hailing the holy trio filling the air. Flower offerings (pushpanjali) and homa mark the end of worship after which thousands are fed sumptuous bhoga.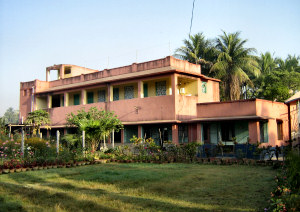 The Ashrama guest house
The serene atmosphere of the premises is indeed conducive to spiritual aspirants who would like to retreat to spend a few days in japa and meditation away from the hustle and bustle of the busy city life. Ashrama has a guest house with moderate facilities principally for initiated devotees of the Order. Devotees seeking accommodation here may contact through letter, email, through the Contact page of this website or over telephone during office hours only.