The saga begins . . .
The day of 21st August 1994 would thenceforth be a date to commemorate for the villagers of Ichapur tucked away in the interiors of the district of Hooghly in West Bengal when a centre of the Ramakrishna Order was established at the birthplace of one of the most notable apostles of Sri Ramakrishna - Swami Ramakrishnananda (Sashi Maharaj).

Read More...
They inspire . . .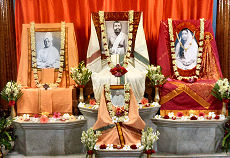 An Appeal
We are appealing before your goodself to extend your kind cooperation to help us to build a 'Dining Hall'. Present dining hall is very small (20 persons sitting capacity only). The number of devotees are increasing day by day and it becomes difficult for us to arrange within this small space.
Yours in the service of Holy Mother
Swami Viditananda
Adhakshya
Please click for more details
Tender Notice
Tender are invited by Ramakrishna Math, Ichapur, P.O. MAyal Bandipur, Hooghly Pin 712617 from bonafide Contructors experienced with works of Ramakrishna Math and Mission to install a 6 K.V. Solar Power Project in Math Premises including internal wiring to different Loads----- Last Date 31.10.2017
For sd/- Ramakrishna Math, Ichapur
Swami Viditananda
Adhakshya
Please click for more details